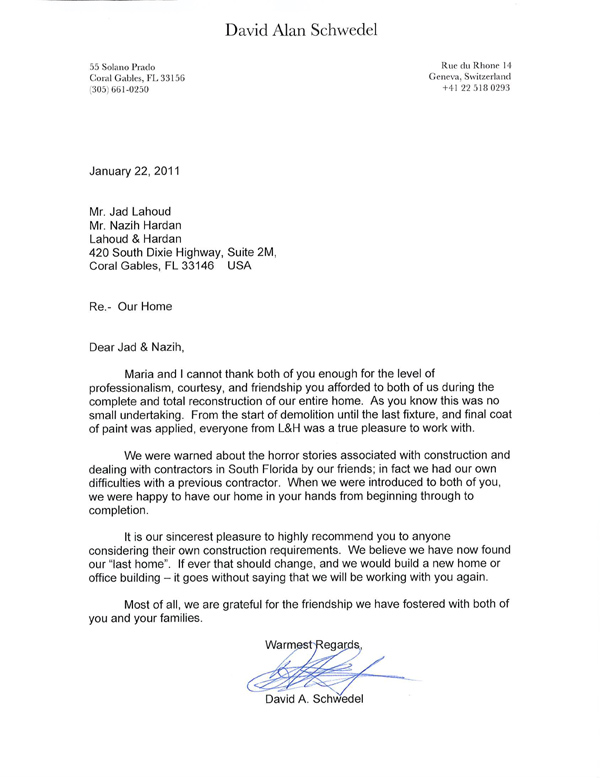 January 22, 2011
Mr. Jad Lahoud
Mr. Nazih Hardan
Lahoud & Hardan
420 South Dixie Highway, Suite 2M,
Coral Gables, FL 33146 USA
Re: our Home
Dear Jad & Nazih,
Maria and I cannot thank both of you enough for the level of professionalism, courtesy, and friendship you afforded to both of us during the complete and total reconstruction of our entire home. As you know this was no small undertaking. From the start of demolition until the last fixture, and final coat of pain was applied, everyone from L&H was a true pleasure to work with.
We were warned about the horror stories associated with construction and dealing with contractors in South Florida by our friends; in fact we had our own difficulties with a previous contractor. When we were introduced to both of you, we were happy to have our home in your hands from beginning through to completion.
It is our sincerest pleasure to highly recommend you to anyone considering their own construction requirements. We believe we have now found our "last home". If ever that should change, and we would build a new home or office building – it goes without saying that we will be working with you again.
Most of all, we are grateful for the friendship we have fostered with both of you and your families.
Warmest Regards,
David A. Schwedel