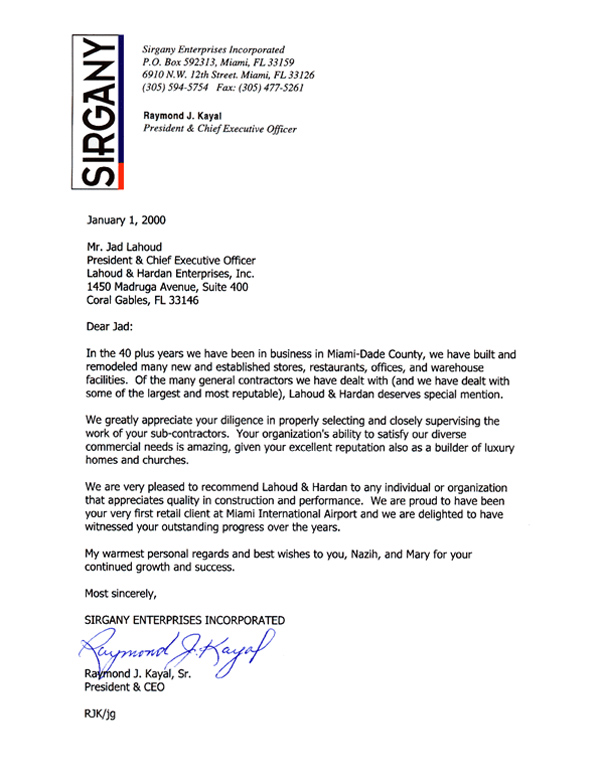 January 1, 2000
Mr. Jad Lahoud
President & Chief Executive Officer
Lahoud & Hardan Enterprises, Inc.
1450 Madruga Avenue
Suite 400
Coral Gables, FL 33146
Dear Jad: In the 40 plus years we have been in business in Miami-Dade County, we have built and remodeled many new and established stores, restaurants, offices and warehouse facilitates. Of the many general contractors we have dealt with (and we have dealt with some of the largest and most reputable), Lahoud & Hardan deserves special mention.
We greatly appreciate your diligence in properly selecting and closely supervising the work of your sub-contractors. Your organization's ability to satisfy our diverse commercial needs is amazing, given your excellent reputation also as a builder of luxury homes and churches.
We are very pleased to recommend Lahoud & Hardan to any individual or organization that appreciates quality in construction and performance. We are proud to have been your very first retail client at Miami International Airport and we are delighted to have witnessed your outstanding progress over the years.
My warmest personal regards and best wishes to you, Nazih, and Mary for your continued growth and success.
Most sincerely,
SIRGANY ENTERPRISES INCORPORATED
Raymond J. Kayal, Sr. President & CEO RJK/jg