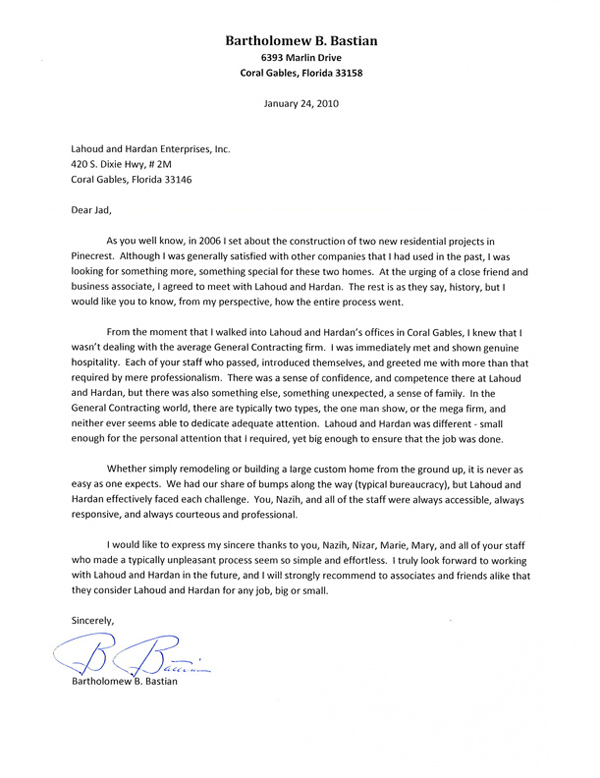 Lahoud and Hardan Enterprises, Inc.
420 S. Dixie Hwy, # 2M
Coral Gables, Florida 33146
Dear Jad,
As you well know, in 2006 I set about the construction of two new residential projects in Pinecrest. Although I was generally satisfied with other companies that I had used in the past, I was looking for something more, something special for these two homes. At the urging of a close friend and business associate, I agreed to meet with Lahoud and Hardan. The rest is as they say, history, but I would like you to know, from my perspective, how the entire process went.
From the moment that I walked into Lahoud and Hardan's office in Coral Gables, I knew that I wasn't dealing with the average General Contracting firm. I was immediately met and shown genuine hospitality. Each of your staff who passed, introduced themselves, and greeted me with more than that required by mere professionalism. There was a sense of confidence, and competence there at Lahoud and Hardan, but there was also something else, something unexpected, a sense of family. In the General Contracting world, there are typically two types, the one man show, or the mega firm, and neither ever seems able to dedicate adequate attention. Lahoud and Hardan was different – small enough for the personal attention that I required, yet big enough to ensure that the job was done.
Whether simply remolding or building a large custom home from the ground up, it is never as easy as one expects. We had our share of bumps along the way (typically bureaucracy), but Lahoud and Hardan effectively faced each challenge. You, Nazih, and all of the staff were always accessible, always responsive, and always courteous and professional.
I would like to express my sincere thanks to you, Nazih, Nizar, Marie, Mary, and all of your staff who made a typically unpleasant process seem so simple and effortless. I truly look forward to working with Lahoud and Hardan in the future, and I will strongly recommend to associates and friends alike that they consider Lahoud and Hardan for any job, big or small.
Sincerely,
Bartholomew B. Bastian