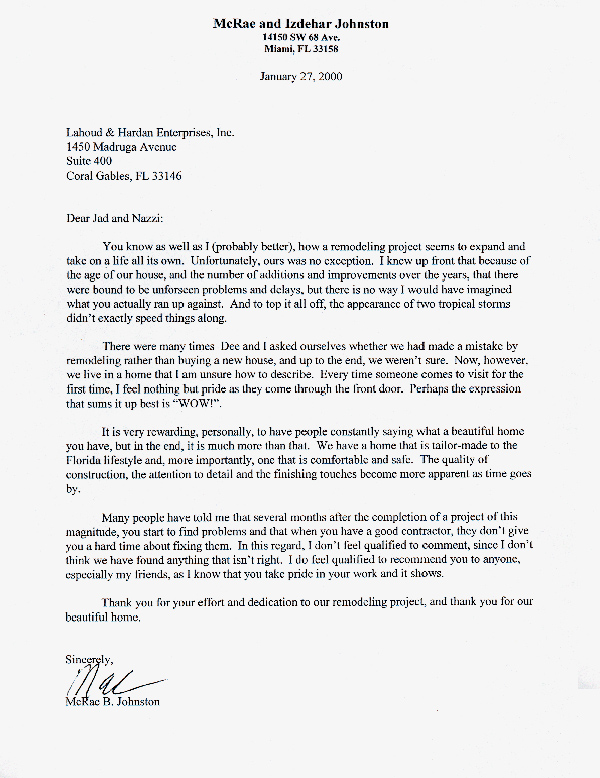 January 27, 2000
Lahoud & Hardan Enterprises, Inc.
1450 Madruga Avenue
Suite 400
Coral Gables, FL 33146
Dear Jad and Nazih:
You know as well as I (probably better), how a remodeling project seems to expand and take on a life all its own. Unfortunately, ours was no exception. I knew up front that because of the age of our house, and the number of additions and improvements over the years, that there were bound to be unforeseen problems and delays, but there is no way I would have imagined what you actually ran up against. And to top it all off, the appearance of two tropical storms didn't exactly speed things along.
There were many times Dee and I asked ourselves whether we had made a mistake by remodeling rather than buying a new house, and up to the end, we weren't sure. Now, however, we live in a home that I am unsure how to describe. Every time someone comes to visit for the first time, I feel nothing but pride as they come through the front door. Perhaps the expression that sums it up best is "WOW!"
It is very rewarding, personally, to have people constantly saying what a beautiful home you have, but in the end, it is much more than that. We have a home that is tailor-made to the Florida lifestyle and, more importantly, one that is comfortable and safe. The quality of construction, the attention to detail and the finishing touches become more apparent as time goes by.
Many people have told me that several months after the completion of a project of this magnitude, you start to find problems and that when you have a good contractor, they don't give you a hard time about fixing them. In this regard, I don't feel qualified to comment, since I don't think we have found anything that isn't right. I do feel qualified to recommend you to anyone, especially my friends, as I know that you take pride in your work and it shows.
Thank you for your effort and dedication to our remodeling project, and thank you for our beautiful home.
Sincerely,
Mcrae B. Johnston