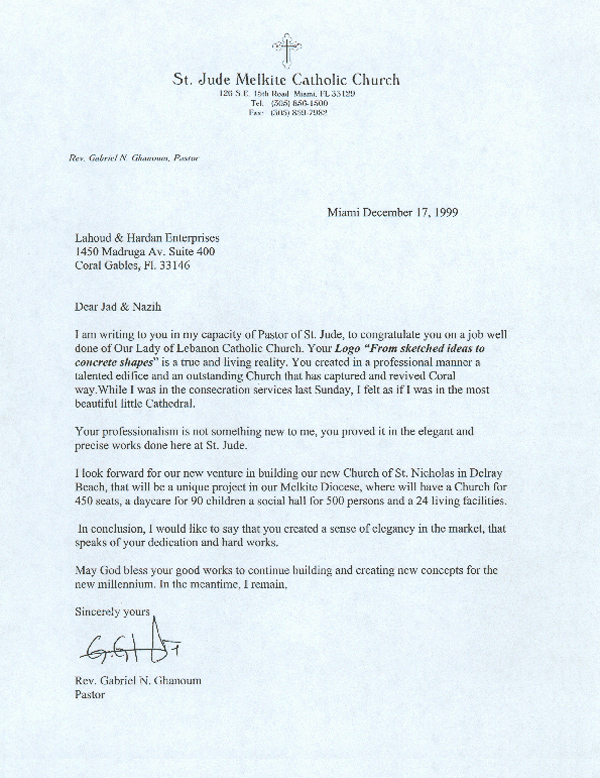 Miami December 17, 1999
Lahoud & Hardan Enterprises
1450 Madruga Av.
Suite 400
Coral Gables, FL 33146
Dear Jad & Nazih
I am writing to you in my capacity of Pastor of St. Jude, to congratulate you on a job well done of Our Lady of Lebanon Catholic Church. Your Logo "From sketched ideas to concrete shapes" is a true and living reality. You created in a professional manner a talented edifice and an outstanding Church that has captured and revived Coral Way. While I was in a consecration service last Sunday, I felt as if I was in the most beautiful little Cathedral.
Your professionalism is not something new to me, you proved it in the elegant and precise works done here at St. Jude.
I look forward for our new venture in building our new Church of St. Nicholas in Delray Beach, that will be a unique project in our Melkite Diocese, where will have a Church for 450 seats, a daycare for 90 children a social hall for 500 persons and a 24 living facilities.
In conclusion, I would like to say that you created a sense of elegancy in the market, that speaks of your dedication and hard works.
May God bless your good works to continue building and creating new concepts for the new millennium. In the meantime, I remain,
Sincerely yours,
Rev. Gabriel N. Ghanoum
Pastor