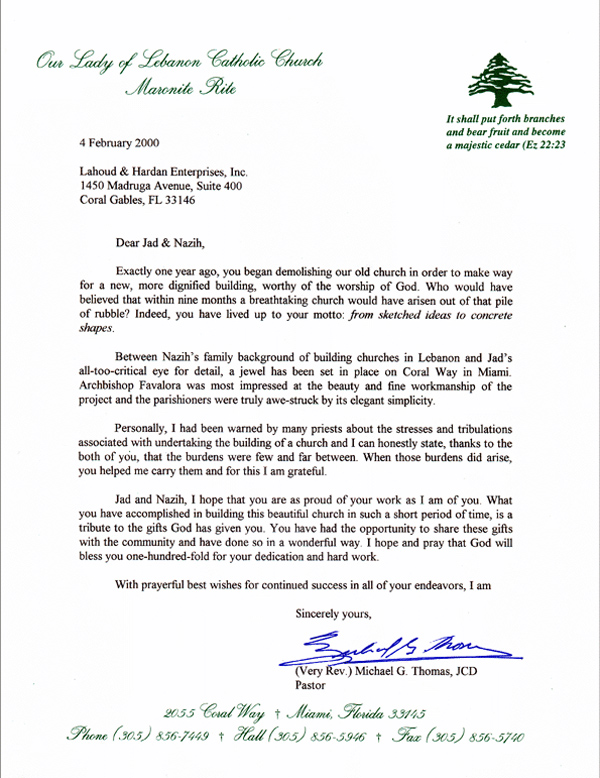 4 February 2000
Lahoud & Hardan Enterprises, Inc.
1450 Madruga Avenue
Suite 400
Coral Gables, FL 33146
Dear Jad & Nazih,
Exactly one year ago, you began demolishing our old church in order to make way for a new, more dignified building, worthy of the worship of God. Who would have believed that within nine months a breathtaking church would have arisen out of that pile of rubble? Indeed, you have lived up to your motto: from sketched ideas to concrete shapes.
Between Nazih's family background of building churches in Lebanon and Jad's all-too-critical eye for detail, a jewel has been set in place on Coral Way in Miami. Archbishop Favalora was most impressed at the beauty and fine workmanship of the project and the parishioners were truly awe-struck by its elegant simplicity.
Personally, I had been warned by many priests about the stresses and tribulations associated with undertaking the building of a church and I can honestly state, thanks to the both of you, that the burdens were few and far between. When those burdens did arise, you helped me carry them and for this I am grateful.
Jad and Nazih, I hope that you are as proud of your work as I am of you. What you have accomplished in building this beautiful church in such a short period of time, is a tribute to the gifts God has given you. You have had the opportunity to share these gifts with the community and have done so in a wonderful way. I hope and pray that God will bless you one-hundred-fold for your dedication and hard work.
With prayerful best wishes for continued success in all of your endeavors, I am
Sincerely yours,
(Very Rev.) Michael G. Thomas, JCD
Pastor