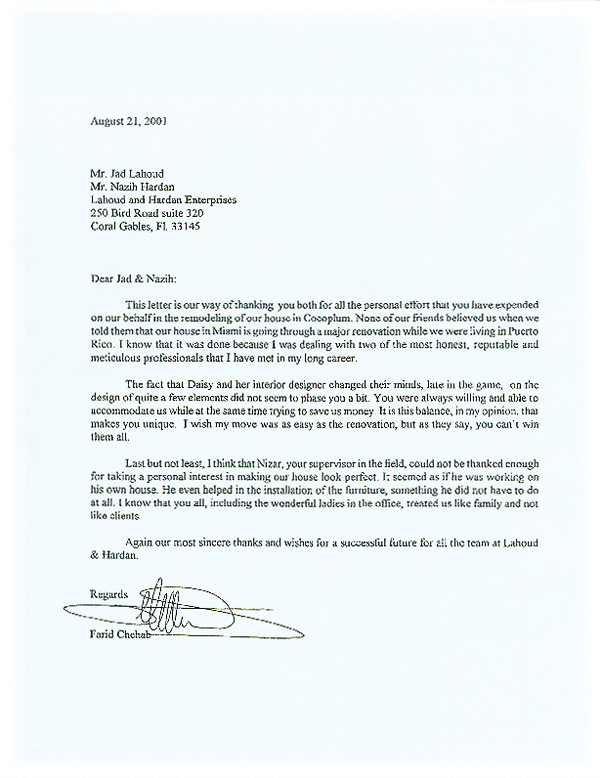 August 21, 2003
Mr. Jad Lahoud
Mr. Nazih Hardan
Lahoud and Hardan Enterprises
250 Bird Road
Suite 320
Coral Gables, FL 33145
Dear Jad & Nazih:
This letter is our way of thanking you both for all the personal effort that you have expanded on our behalf in the remodeling of our house in Cocoplum. None of our friends believed us when we told them that our house in Miami is going through a major renovation while we were living in Puerto Rico. I know that it was done because I was dealing with two of the most honest, reputable and meticulous professionals that I have met in my long career.
The fact that Daisy and her interior designer changed their minds, late in the game, on the design of quite a few elements did not seem to phase you a bit. You were always willing and able to accommodate us while at the same time trying to save us money. It is this balance, in my opinion, that makes you unique. I wish my move was as easy as the renovation, but as they say, you can't win them all.
Last but not least, I think that Nizar, your supervisor in the field, could not be thanked enough for taking a personal interest in making our house look perfect. It seemed as if he was working on his own house. He even helped in the installation of the furniture, something he did not have to do at all. I know that you all, including the wonderful ladies in the office, treated us like family and not like clients.
Again our most sincere thanks and wishes for a successful future for all the team at Lahoud & Hardan.
Regards
Farid Chehab