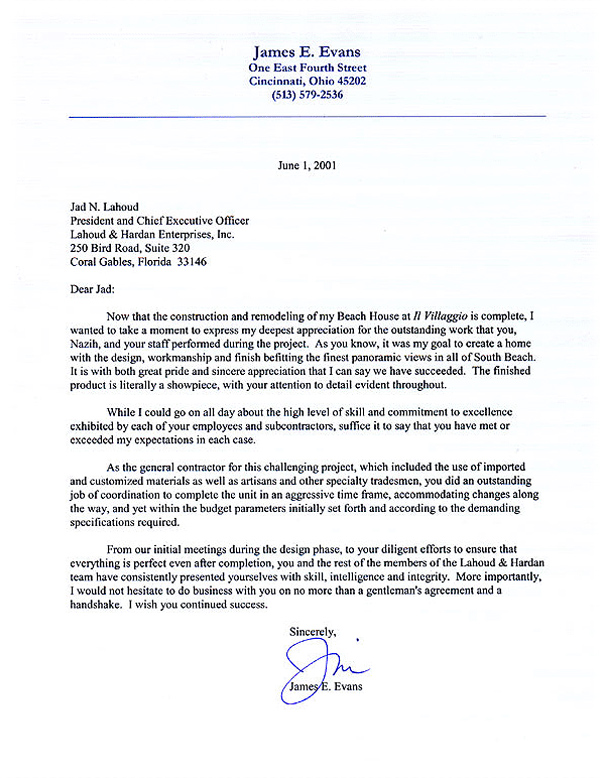 June 1, 2001
Jad N. Lahoud
President and Chief Executive Officer
Lahoud & Hardan Enterprises, Inc.
250 Bird Road
Suite 320
Coral Gables, Florida 33146
Dear Jad:
Now that the construction and remodeling of my Beach House at Il Villaggio is complete, I wanted to take a moment to express my deepest appreciation for the outstanding work that you, Nazih, and your staff performed during the project. As you know, it was my goal to create a home with the design, workmanship and finish befitting the finest panoramic views in all of South Beach. It is with both great pride and sincere appreciation that I can say we have succeeded. The finished product is literally a showpiece, with your attention to detail evident throughout.
While I could go on all day about the high level of skill and commitment to excellence exhibited by each of your employees and subcontractors, suffice it to say that you have met or exceeded my expectations in each case.
As the general contractor for this challenging project, which included the use of imported and customized materials as well as artisans and other specialty tradesmen, you did an outstanding job of coordination to complete the unit in an aggressive time frame, accommodating changes along the way, and yet within the budget parameters initially set forth and according to the demanding specifications required.
From our initial meetings during the design phase, to your diligent efforts to ensure that everything is perfect even after completion, you and the rest of the members of Lahoud & Hardan team have consistently presented yourselves with skill, intelligence and integrity. More importantly I would not hesitate to do business with you on no more than a gentleman's agreement and a handshake. I wish you continued success.
Sincerely,
James E. Evans