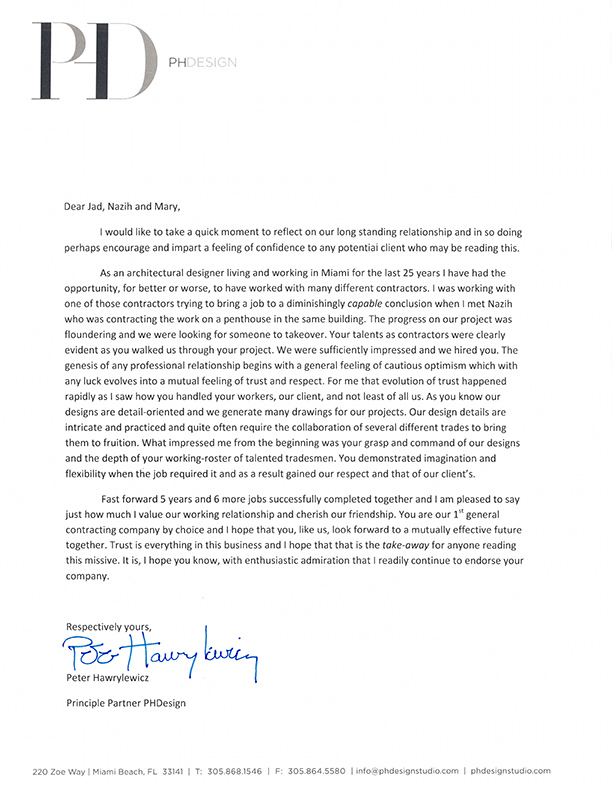 Dear Jad, Nazih and Mary,
I would like to take a quick moment to reflect on our long standing relationship and in so doing perhaps encourage and impart a feeling of confidence to any potential client who may be reading this.
As an architectural designer living an working in Miami for the last 25 years I have had the opportunity, for better or worse, to have worked with many different contractors. I was working with on of those contractors trying to bring a job to a diminishingly capable conclusion when I met Nazih who was contracting the work on a penthouse in the same building. The progress on our project was floundering and we were looking for someone to take over. Your talents as contractors were clearly evident as you walked us through your project. We were sufficiently impressed and we hired you. The genesis of an professional relationship begins with a general feeling of cautious optimism which with any luck evolves into a mutual feeling of trust and respect. For me the evolution of trust happened rapidly as I saw how you handled your workers, our client, and not least of all us.  As you know our designs are detail-oriented and we generate many drawings for our projects. Our design details are intricate and practiced and quite often require the collaboration of several different trades to bring them to fruition. What impressed me from the beginning was your grasp and command of our designs and the depth of your working-roster of talented tradesmen. You demonstrated imagination and flexibility when the job required it and as a result gained our respect and that of our client's.
Fast forward 5 years and 6 more jobs successfully completed together and I am pleased to say just how much I value our working relationship and cherish our friendship. You are our 1st general contracting company by choice and I hope that you, like us, look forward to a mutually effective future together. Trust is everything in this business and I hope that that is the take-away for anyone reading this missive. It is, I hope you know, with enthusiastic admiration that I readily continue to endorse your company.
Respectively yours,
Peter Hawrylewicz
Principal Partner PHDesign